« Processes
Controlling a Stage
Other languages: fr es ru pt it Français Español русский Português Italiano
The purpose of the Controlling a Stage process (CS) is for the Project Manager to assign the work to be done, monitor this work, deal with issues, report Progress to the Project Board and take corrective action to ensure that the stage remains within tolerance.
Objective
The objective of the Controlling a Stage process is to ensure that:
Attention is focused on the delivery of the products.
Keep Risk and Issues under control.
Keep the Business Case under review.
Deliver the products for the stage to the agreed quality within agreed cost and time and achieve the defined benefits.
Context
The Controlling a Stage process describes the work of the Project Manager as they do their day-to-day management of a stage, and it is where the Project Manager does most of their work.
During a stage the Project Manager will repeat the following tasks:
Authorize the work to be done (give out work in Work Package to the Team Manager ).
Monitor progress information for this work using Checkpoint Report and .
Review the current situation in relation to the Stage Plan , sign off completed work and issue new Work Packages.
Report to the Project Board using the Highlight Report .
Watch for issues, assess issues and deal with issues and risks.
Take any necessary corrective action.
As mentioned above, the Project Manager will keep repeating these tasks until all the planned products for the stage have been completed and then start to prepare for the Managing a Stage Boundary process. This whole sequence of activities is again repeated for each stage in the project.
At the end of the last stage, the Closing a Project process will be invoked and therefore, the Project Manager will start to prepare the project for closure.
Activities
Authorize a Work Package – Assign and agree with the Team Manager.
Review Work Package Status – Check on Work Package progress.
Receive completed Work Package – Check quality and Configuration Management.
Review the stage status – Continually compare status to Stage Plan.
Report Highlights – Regular reports to the Project Board.
Capture and examine issues & risks – Categorizing and assess impact.
Escalate issues and risks – Create Exception Report and send to the Project Board.
Take corrective action – Solve issues while keeping stage within tolerance.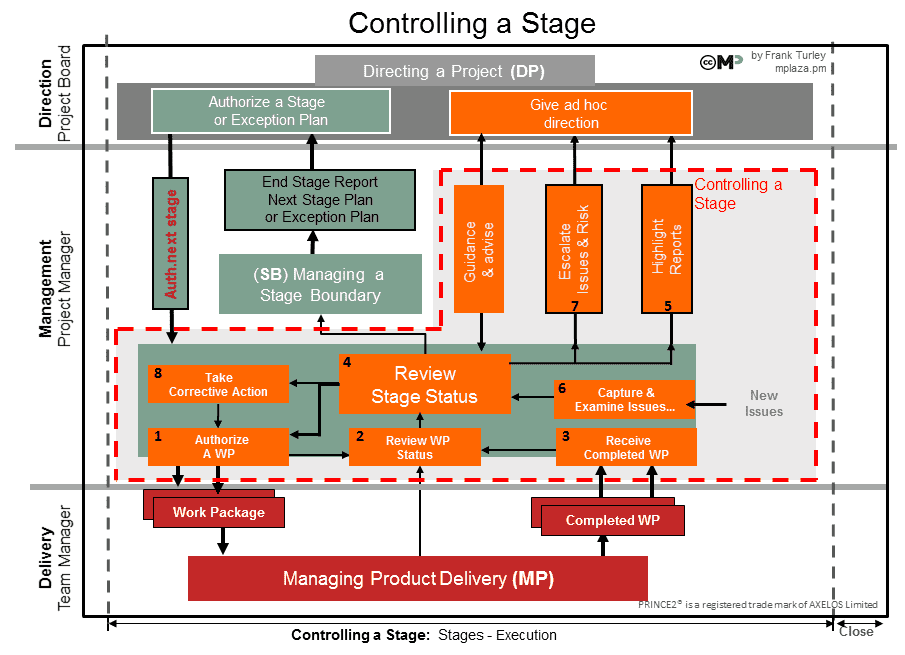 Inputs
The trigger to start each CS process is the Authorization from the Project Board. The main inputs are the Stage Plan and information in the Project Initiation Documentation.
Outputs
Roles and Responsibilities
Project Board

Give advice to Project Manager.

Project Assurance

Give advice to Project Manager.

Project Manager

All day-to-day activities are performed by the Project Manager.
Create or update all CS management products

Team Manager

Send Checkpoints Reports (Managing Product Delivery process).