« Management Products
Lessons Report

Downloadable Template
The Lessons Report (or Lessons Learned Report) is used to document lessons that might be of value to future projects. A Lessons Report has to be created at the end of the project during the Closing a Project process. In larger projects, a Lessons Report might be created during the project, for example, during the Managing a Stage boundary process. The purpose of the report is to provoke action so that the positive lessons become embedded in the organization's way of working, and that the organization is able to avoid any negative lessons on future projects.
A Lessons Report can be created at any time in a project so you don't have to wait until the of the project. Normally the Lesson Report is included as part of the End Stage Report and End Project Report . Sometimes it may be a good idea to have a number of Lesson Reports that focus on different types of lessons and for a different target audience; e.g., specific product, supplier, technology.
Timeline Lessons Report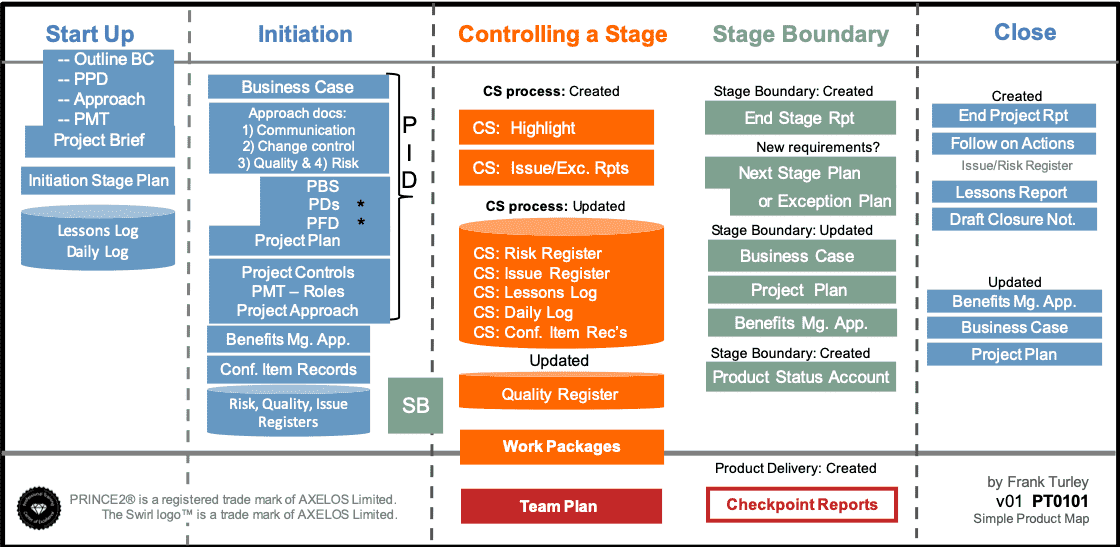 Lessons Reports from other projects can be inputs to a project
Lessons Reports can be created at the end of each stage, this mostly happens on bigger projects
They can also be created at any point in a project; e.g., A supplier completes a big Work Package in the middle of a stage.
In the Closing a Project process, the Project Manager creates a Lesson Report that will be given the Project Board and then handed to the Project Office so it can have value to future projects.
Sample Lessons Report - End Stage 2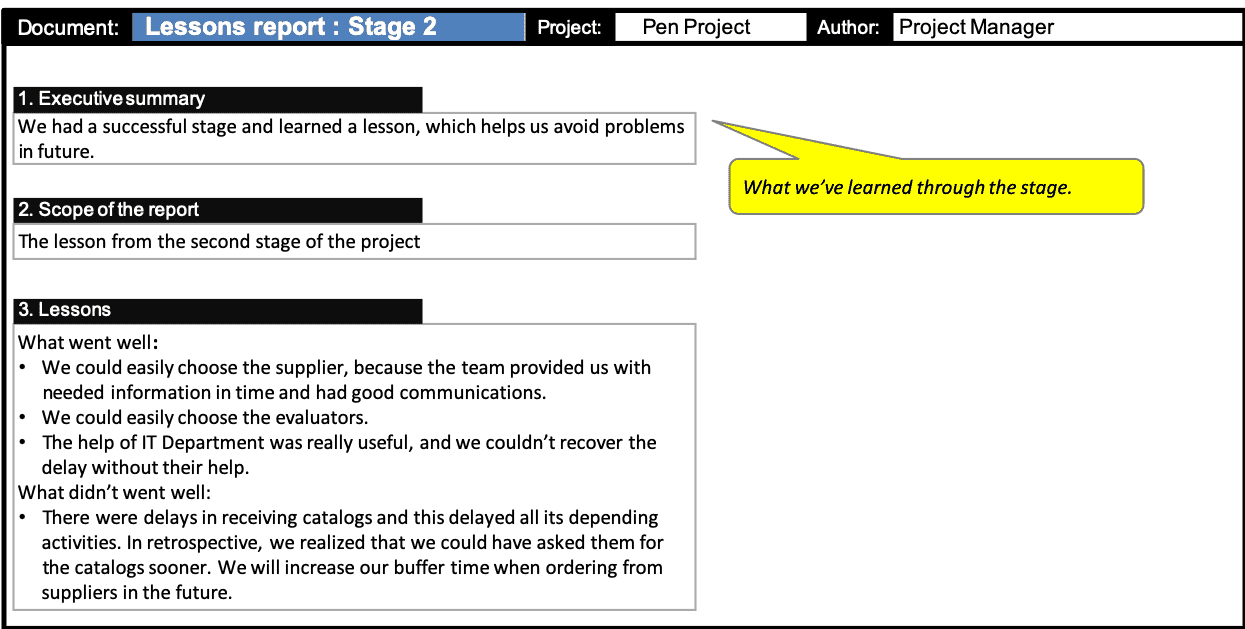 Sample Lessons Report - End of project

As you can, the Lessons Report covers what went well and what could have gone better.
Source data for the Lessons Report
Quality Criteria for Lessons Report
Start with the unexpected risks as these are normally a great source of lessons (what could have been anticipated)
Examine each management control in the project
Compare estimated values with actual values and see identify what lessons could have been learned
Include feedback from any Project Assurance roles if they were appointed to the project
List the actions that were taken for the lessons or recommend future actions.
Some tips from [Frank]
It's always a good idea to create a Lessons Report at the end of each stage. This changes the mindset of the project where people are more open to admit mistakes and learn from these mistakes
Lessons Reports will not work in an environment where is a strong blame culture
The register files are perhaps the best source of lessons to document in the Lessons Report.
It is good practice to invite each Project Manager's in a company to give a presentation to other Project Managers on the Lessons and mistakes they made during the project. This is a great learning opportunity for all Team Managers and Project Managers.