« Management Products
Highlight Report

Downloadable Template
The Highlight Report is a report on the stage progress prepared regularly by the Project Manager for the Project Board . The frequency for this report is indicated in the Communication Management Approach (e.g., it may be agreed that the project manager will send every two weeks on a certain day and with a specific format, which can be a two- or three-page overview). The report can confirm that the stage runs within tolerances and the Project Manager can also point out any foreseeable problems.
The highlight report allows the project board to manage by exception between each stage end, as they are aware of the tolerances agreed with the project manager in the stage plan, so the highlight report should report the current status of tolerances of Time, Cost, Quality, Scope, Benefits, and Risk.
Main reports documents used by the Project Manager to communicate with Project Board:
Highlight reports
End stage reports
End project report
Timeline Highlight Report
The Highlight Report is mainly created in the Controlling a Stage process by the Project Manager.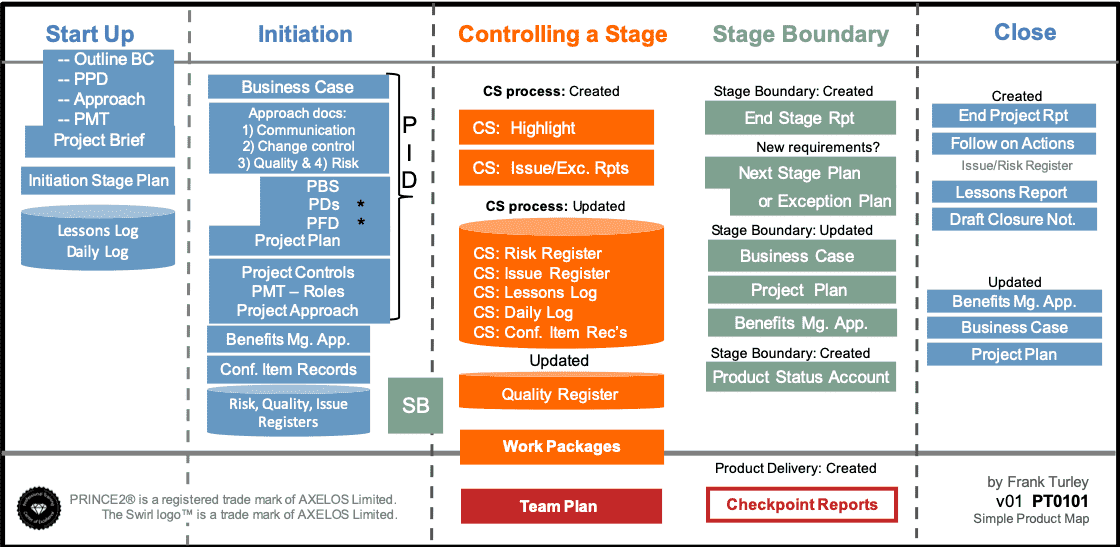 Sample Highlight Report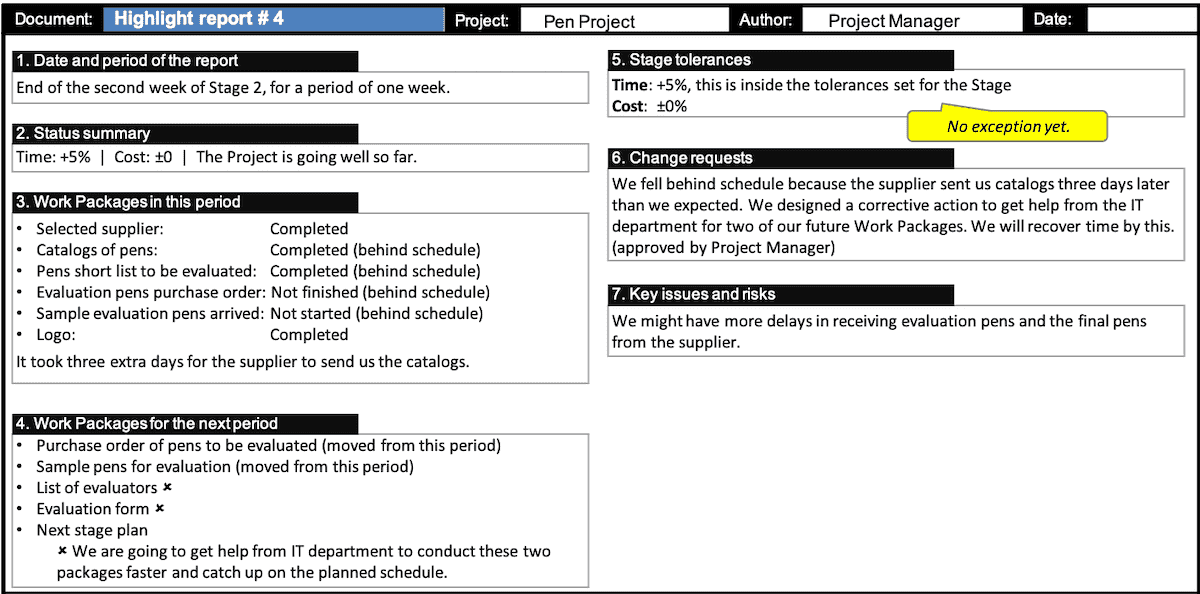 The Highlight report can be kept simple - this one-page overview is a good example
Date: Current reporting period
Status summary: Use the six project variables
Work Packages: Product names are mentioned here and no tasks
Work Packages Next: List of next products to deliver (not Work Packages)
Change requests: Normally there will be a link to Change Request document (called an Issue Report in PRINCE2)
Key Risk and Issues: Changes to any major risks that the Project Board should know about.
Source data for the Highlight Report
Format of the Highlight Report
Face to face presentation to the Project Board (or conference call)
Document (word or PDF)
Presentation slides like the above example
Email
A repot within a project management tool
Quality Criteria for Highlight Report
Correct frequency of progress reporting as defined in the Communication Management Approach
Correct level of detail (see Communication Management Approach) for the Project Board.
Easy to read and to the point (be careful with % of done and traffic lights)
The information is timely, useful, accurate and objective
Include potential problem areas
Some tips from Frank
Ask the Project Board for their preferred reporting format
Keep these Highlight Report as simple as possible
Include information on major issues and risk (do not be afraid to do this)
Do NOT use % as a measure of product completion as to many products are 95% done
Ask the Project Board for their feedback (more or less information)
Find out how the Project Board review these reports.