« Management Products
End Stage Report

Downloadable Template
The End Stage Report is created by the project manager towards the end of the stage and compares the performance of the stage to the stage plan. It is used by the project board to decide whether to modify the project scope or shut down the project. It is also used by the Project Board to see the performance of the stage compared to the stage plan.
The object of the report is to provide the Project Board with information on project performance during each stage and the overall project status up to that point. It will also include a review of the benefits reached so far and a review of the issues and risks. An end stage report should contain a forecast for the next stage. This will help the project board decide whether to continue the project or not. The Project Board use the information in the End Stage Report and the Stage Plan to decide what action to take with the project: for example, authorize the next stage, amend the project scope, or stop the project.
The following End Stage Report is taken from the PEN Sample Project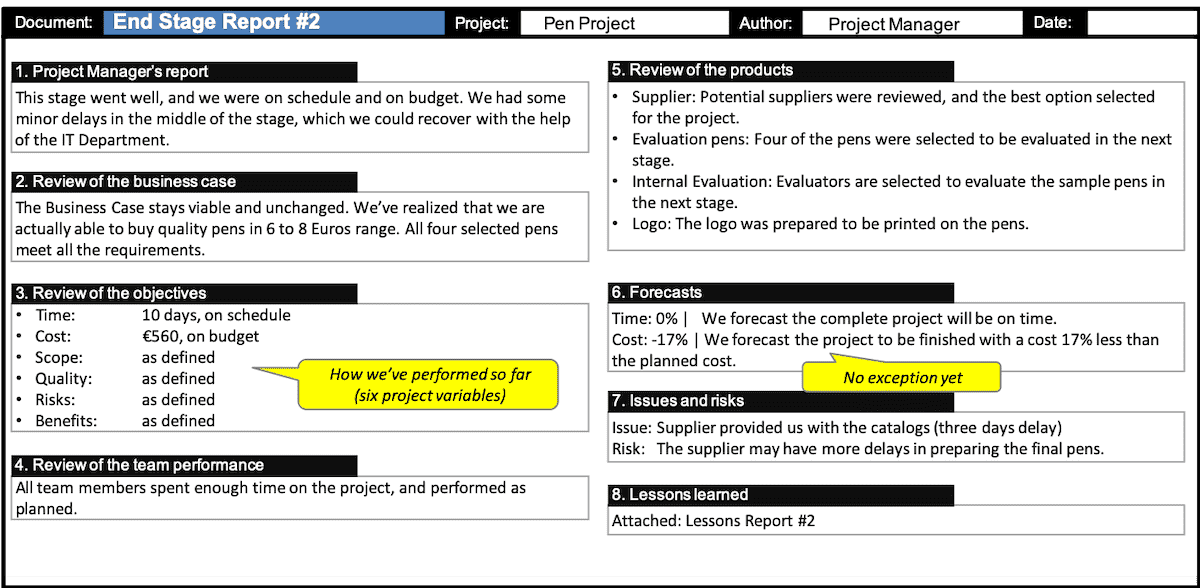 The Managing a Stage Boundary has the following main outputs:
The next stage plan or exception plan is created.
The end stage report gives an overview of how well the stage performed.
The business case and project plan are also updated.
The End Stage Report is derived from the:
Current Stage Plan and the lastest project status information (Completed/slipped Work Packages)
Project Plan - latest version
Benefits Management Approach - latest version
Project regissters (Issue, Register and Risk)
Lessons Report - latest version
Business Case - latest version
Format of the End Stage Report
A presentation to the Project Board (physical meeting or conference call)
A word or PDF document
An email
An entry in an online project management application
End Stage Report Quality Criteria
Report the stage performance agaist the stage plan
Describe any abnormal situations and include their impact on the stage.
Comment on the status of the products from the Stage Plan
Comment on the Busines Case if required
Tips from Frank
Ask the Project Board how they would like to receive the End Stage Report.
Keep the report as simple as possible eg: Like the example above
Check if the Project Board bothered to read it and if not find out why