Comparision of PRINCE2 Foundation eLearning Courses
There are different options for PRINCE2 Training ; classroom courses, eLearning courses, and self-study. PRINCE2 Foundation candidates who are interested in using eLearning courses have many options; the accredited courses that we are aware of are the following:
Last update: 2020/10/07
All prices are converted to EUR, and include both the cost of the eLearning course and the official PRINCE2 Foundation exam voucher.
Note that while we check the data and update them regularly, they change all the time, and at the time you're reading this article, some data in the table may not be accurate. So, make sure you check everything yourself.
Following is a quick review of the courses that have a demo.
ILX PRINCE2 Foundation eLearning Course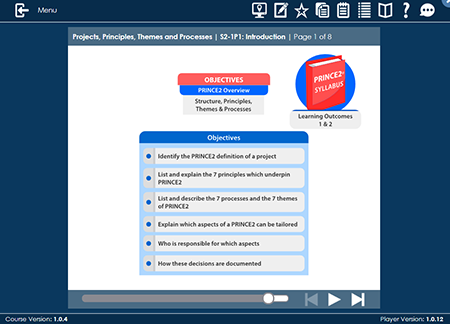 Price: €710
The ILX eLearning course is the most expensive one, probably because ILX is very famous and many people trust them.
The course is an old-fashioned type of eLearning course, with slides and animations, and the voiceover of a professional narrator (a very warm voice I should confess). This is in fact what most people think of when they hear the phrase "eLearning course", and reminds them of the time they received an email from the training manager of their company, saying that this is your new course, go and learn PRINCE2.
They are one of the most successful companies in this domain, which probably means that this type of training is acceptable for learners, but I personally prefer to see more dynamic, live, friendly types of training that use today's capacities of the web.
More information on ILX website
Management Plaza PRINCE2 Foundation eLearning Course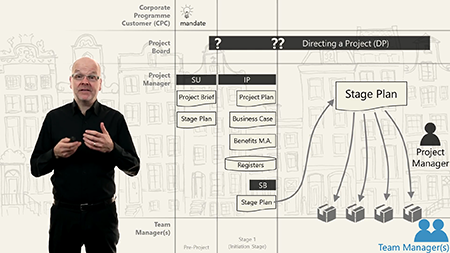 Price: €395
Management Plaza's PRINCE2 eLearning course uses a modern delivery approach and a few additional resources such as educational games and integrated flashcards. The first 30% of their course is free and available even without registering on their website.
The author of the course is my business partner and the author of most articles in this website, Frank Turley.
The course uses a contemporary approach to eLearning courses: one where you can have a relatively personal connection with the trainer and see visuals that help your understanding, rather than summarizing what the presenter is saying. I clearly remember another PRINCE2 eLearning provider with the same approach, but it's not available anymore after the 2017 update for the 6th edition (or maybe I can't fine them).
Compared to many other training organizations in this list, Management Plaza has a very limited number of courses, and PRINCE2 is their main product.
More information on Management Plaza website
Simplilearn PRINCE2 Foundation eLearning Course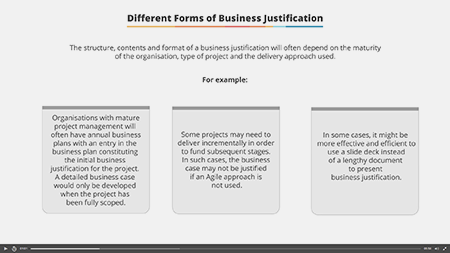 Price: €649
Simplilearn's course is also relatively old-fashioned, with slides and voiceover, and is the second most expensive course in the list.
They offer a very large number of courses, and something interesting is that they have created bundles of certification courses and normal courses that work like learning paths toward certain careers.
More information on Simplilearn website
Knowledge Train PRINCE2 Foundation eLearning Course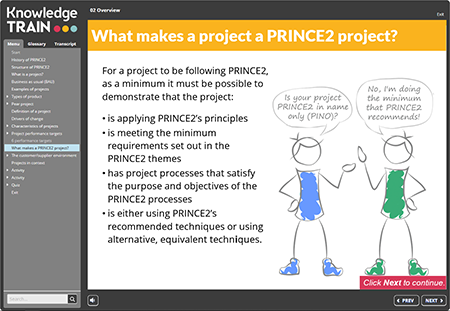 Price: €766
The eLearning course from Knowledge Train has many similarities with the one from ILX; e.g., the same slide based voiceover course with a warm, professional voice of a narrator. One difference, though, is that the topics are broken down into many more sections, which can make it easier to browse through them to review or find the areas that you have problems with. Some sections are animated videos, some are only text, and some are additional content such as quizzes.
More information on Knowledge Train website
PM Partners PRINCE2 Foundation eLearning Course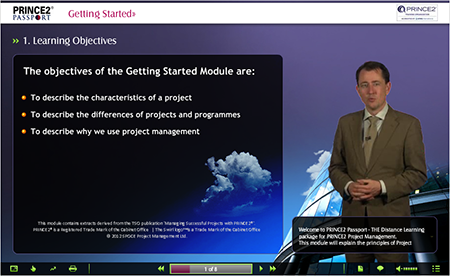 Price: €718
This eLearning course is called PRINCE2 Passport and is a generic course that is sold by many training organizations. I don't know if PM Partners is the owner or just a reseller though.
Regardless, the course is flash-based, and therefore, there may be problems for tablets and other mobile devices. The structure is old-fashioned, but there's still a presenter on the screen, which is more common in modern eLearning courses such as that of Management Plaza. The differentiating factor is that the visuals on the screen are mainly text-based summaries of what the presenter is saying, rather than independent elements that help make the presenter's points clearer.
The other thing about this course is its alignment with the latest version of PRINCE2: It's not mentioned in the website, but I think it's not updated for the 6th edition of PRINCE2, because the course looks much older than that, and also, I remember seeing this course before the PRINCE2 update. So, if you want to take this course, I suggest contacting them and making sure that it's up to date.
More information on PM Partners website
Training ByteSize PRINCE2 Foundation eLearning Course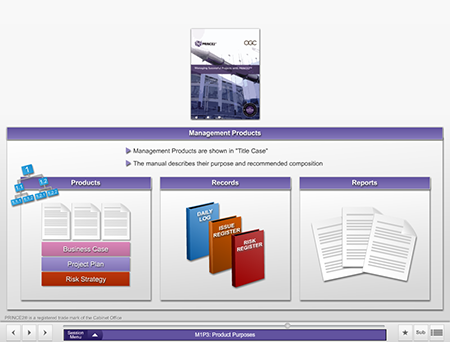 Price: €460
This is another flash-based eLearning course. First I thought it can't be updated for the 6th edition of PRINCE2, believing that no one uses Flash to develop new courses, but the website says it is aligned with the 6th edition.
Here we have the usual slides and voiceover, but I personally don't find the narrator's voice as pleasant as those of ILX, Knowledge Train, and Simplilearn.
More information on Training ByteSize website